JOIN ME INSIDE THE COPPERPLATE COLLECTIVE
6+ Hours of Video Content
The course content is a treasure trove of instructional videos and demonstrations.
100 + Page Workbook
Our workbook is gonna be your best friend that will hand hold you throughout the course.
Community Platform
Find your calligra-friends, learn and interact with them on our community platform.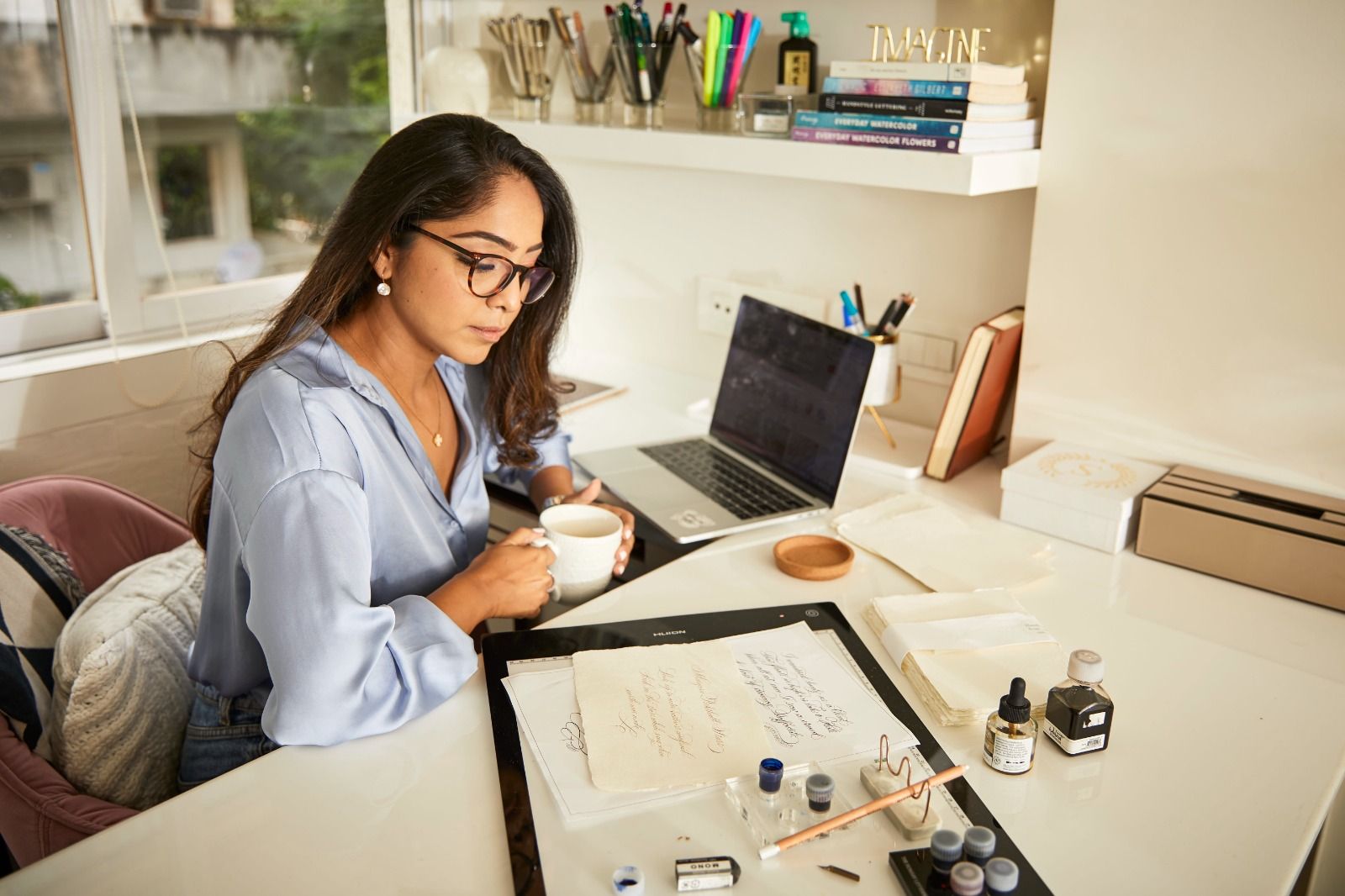 Live Q&A
Get all your questions answered and doubts cleared in our monthly Q&A's.
Here's your plan to learn calligraphy!
Join The Copperplate Collective
It's a pre recorded online course, there are 9 modules which are divided into bite size videos.
Login To Your Portal
Once you sign up, you'll get access to the student portal on your registered mail ID. The course portal has all the course videos, handouts and bonus resources.
Start Practicing
All the videos are in a systematic and follow along format. You'll have access to them for two years so feel free to learn at your own pace.
Module 1
Welcome To The Copperplate Collective
A quick tutorial to help you navigate the course portal and take you through your plan of action.
Module 2
Introduction To Copperplate | Tools and Supplies
Learn about the rich history of copperplate and the tools and supplies used.
Module 3
Understanding the Fundamentals
Get a good grip of the 11 fundamental concepts and set a strong foundation.
Module 4
Warm-Up Drills
Loosen up your muscles and prepare your hands for the motion of writing.
Module 5
Lowercase Basic Strokes
Master the 8 basic strokes which make up all the lowercase letters.
Module 6
Lowercase Letterforms
Combine the basic strokes to form lowercase letters, these are divided group wise and you will also learn to critique your work.
Module 7
Connections and Word Formation
Connect your letters to form words and learn various ways to practice these connections.
Module 8
Uppercase Basic Strokes
Tackle the uppercase letter forms which are divided into 12 groups to give you a solid understanding of their forms.
Module 9
Uppercase Letterforms
We'll be tackling the uppercase letterforms in this module, we've divided them into 12 groups to help you get a solid understanding.
BONUS
Let's talk about the extras!
SELECT YOUR COURSE PLAN
When you invest in learning and upskilling, great things come your way
WHAT TOOLS ARE REQUIRED FOR THE COURSE?
We've curated the most perfect workshop kit with the best tools and supplies for you to get started. It includes a 100+ Page course workbook, Landscape practice pad, TBLC Beginner's oblique holder, Calligraphy ink, Dinky dip + pipette, Nikko G nibs, Personalized name tag & Some TBLC goodies for you! Please note, this is if you sign up for the "Course + Kit" plan.
If you sign up for the "course" plan, Click here to grab a list of tools and supplies you'll be needing for the course.
Trained by Masterpenwomen Barbara Cazolari, Indian Master penman Achyut Palav and Ewan Clayton
A calligraphy community of 58K+ on Instagram
1000+ Students have learnt calligraphy from Sanjana
Calligraphers from Priyanka Chopra-Nick Jonas Wedding
Built a 7-seven thriving business around calligraphy
WHAT OUR PREVIOUS STUDENTS ARE SAYING
FREQUENTLY ASKED QUESTIONS
Can I join this course even though I have never done calligraphy?
I have been doing calligraphy for a while, how will this course benefit me?
What's the format of the course? Is it live or pre recorded?
What's the advantage of a pre recorded online course as compared to a live workshop?
When does the course start and end?
Are tools and supplies included?
If I can't attend the live sessions, are recordings available?
How can I clear my doubts?
Do I need to be in India to join this course?
Is there a community space?